CUSTOM DYNO TUNING
Regardless of your ride or your combination - whether your motorcycle is carbureted or fuel injected - odds are, it has not been tuned properly. Unless, that is, it was set up on an air/fuel eddy current dynamometer by an experienced factory-trained certified dyno technician. On fuel-injected bikes (with the addition of a Dynojet Power Commander), we are able to do just that. We typically spend up to three hours building your custom fuel map - optimizing your air/fuel from 2% to 100% throttle - from idle to redline. This insures the best throttle response, midrange power, and, of course, the highest horsepower possible. Dyno tuning carbureted bikes can produce similar results without all that seat-of-the-pants guessing necessitated by the lack of proper equipment.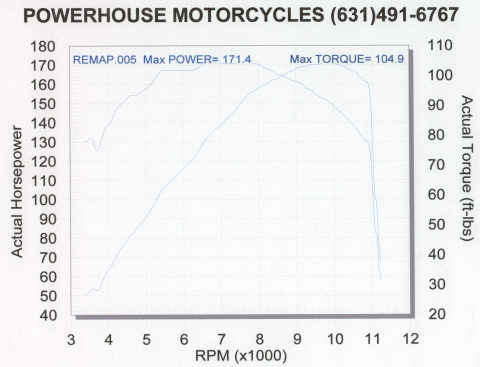 2002 Hayabusa With Yoshimura Pipe (above)
---
If your bike is turbocharged, take note: Powerhouse specializes in mapping bikes like yours, and can eliminate your low-speed driveability problems and your cruising issues - making your turbo bike a pleasure to ride
---
POWERHOUSE PACKAGE: The results that follow were obtained with STOCK pistons, the cylinder head ported by POWERHOUSE, off-the-shelf cams, and a custom dyno map . . .If you have a brand-new 'Busa with low mileage, you might want to consider this combination. This motor had only 600 miles on it when it was modified and tuned and the owner did not want to put pistons in it just yet.
We made several runs to prove a point...these runs were made with PUMP gas and a Ti-Force Sumo pipe...CALL FOR PRICING
Click maps for larger images...
---
Got balls? The Powerhouse Motorcycles Dynojet 250 is the only dyno in the area that will read up to 750 HP. Normally, Dynojet dynos only read to 500 HP. Our dyno software has been specially modified to go above and beyond this normal range. Got balls? Come in, turn your head, and cough...



Don't just have pipes installed without a jet kit, regardless of what your dealer told you.

Don't just have a jet kit installed without having your bike checked and dialed-in on our dyno.
Don't just drop somebody else's map into your new Powercommander and hope its okay.
---
Do it right the first time - at Powerhouse.
...Home of the 750HP Motorcycle Dyno...
111 Jersey Street - West Babylon, NY - 11704
Certified N.Y.S. Motorcycle Inspection Station
powerhouseturbo@gmail.com
(631)491-6767
© 2022 - All images and content on this site copyright of Powerhouse Motorcycles New York. Unauthorized use of these images or content without written permission of Powerhouse Motorcycles New York is an infringement of copyright law and will result in legal action.
All rights reserved as protected by Federal copyright laws.