2008 Suzuki GSX-R1000 - Devil's in the Details...
In the struggle of good versus evil the good guys don't always win, as seen on this demonic GSX-R1000.
From the January, 2011 issue of Super Streetbike By Dave Sonsky
Photography by Dino Petrocelli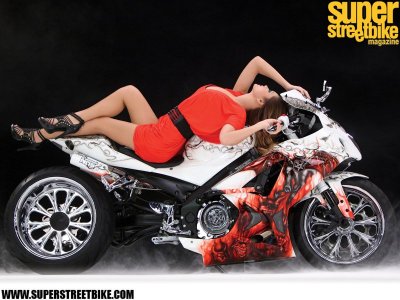 Click for larger image

There are countless cartoons and movies featuring a confused character with an angel on one shoulder and a devil on the other, each coaxing him to make a contrasting decision. For Kenny Caro this seemingly humorous scenario presented itself in real life while he was deep into a custom bike build.
Prior to the look it has now, the GSX-R was a custom that any performance aficionado would adore. Alongside a full Brock's exhaust system were carbon fiber BST wheels, gearing, a TRE (timing retard eliminator), air filter and Power Commander. The bike was set up to go fast...plain and simple. Big bucks were involved, but the cash was stashed in places that only trained eyes could track.

Obviously, it's all become a bit more conspicuous since then.
Kenny found his first version to be a frantic bike that wanted to wheelie constantly and go everywhere in a hurry. For some riders that's not the ideal way to roll, and he considered some friendly suggestions to stretch the swingarm in order to tame it down.
Fate was on Kenny's side because Tricked Out Custom Cycles (TOCC) was practically in his backyard, and the tuning shop specializes in the art of stretching, slamming and customization. Once TOCC's Steve Kehler took the over-achieving Gixxer into his shop he set about changing its stance. A ten-over single-sided swingarm holding a 300mm fatty rear was installed, and those mods dictated a totally new direction. Kenny recalled the second version: "The wheelie problem was solved, but the new issue of propelling the added weight arose. Whenever you add something new it gives birth to more challenges, which then sparks more creativity with the goal of trying to solve each new issue."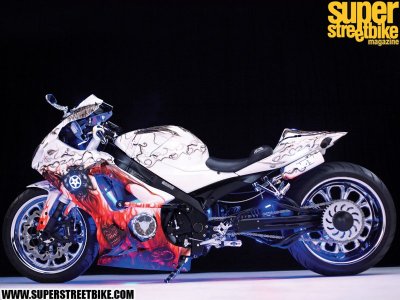 Being recently born into blingland, the GSX-R took its time rolling over to Powerhouse Motorcycles where the engine was to be addressed. A Velocity Racing Stage 1 turbo system was installed along with a 40-shot of nitrous for good measure. That's on top of a thousand cubes of Suzuki stomp, mind you.

After getting acclimated to his radically altered ride, a new problem presented itself: "I became my own worst enemy and was arguing with myself about whether or not to do more to the bike or just stop where I was."
Despite his angel telling him to simply enjoy his bike as it was, a darker force coerced Kenny to spend even more time and money on the project. The evil half obviously triumphed and he opted to go all out, but he struggled with a theme until he examined the very predicament he was in and suddenly it all became clear: "After I had a basic idea and layout I went back to TOCC to talk about the project and what I expected the end result to look like. TOCC started by making the bike clean even though it had a lot of electronics. Then an Ant Racing navi/camera system was molded into the undertail and a Power Commander LCD screen was molded into the tank. The fairing was then reworked to hide the turbo intake without harming performance."
Topping off the specialized one-off mods is TOCC's fiendish paint that precisely communicates the bike's sheer strength and power alongside Kenny's battle to cope with the monster he created. And while the theme might be too much for some to stomach, there's no denying it's got a mysterious and enticing appeal-much like the sinister inner voice we all argue with on occasion.
POWERHOUSE appreciates being a part of this build in as much as we turboed and tuned this beautiful bike. Kenny and TOCC deserve all the credit for what you see here.
We just made it go fast. That is what we do.
2008 Suzuki GSX-R1000
Front end: Galfer Wave rotor and line, RC Components Epic wheel
Rear end: RC Components Epic wheel, Air FX air ride with remote, Galfer Wave rotor, TOCC swingarm, Roaring Toyz lowering links
Motor: Velocity Racing Stage 1 turbo kit, Dyno Tune nitrous and digital boost gauge, K&N air filter, Power Commander and ignition module
Paint/bodywork: Gator Glass, TOCC
Accessories: Ant Racing navi/camera, Custom Dynamics Wizard lights, Clear Alternatives indicators, Race Rails, Tobin seats, TOCC kickstand, mirrors, LEDs, grips, levers, clear clutch and stator covers
Owner: Kenny Caro
Builder: Powerhouse Motorcycles (powerhousemc.com), TOCC (trickedoutcycles.com)
Original article: SuperStreetBike.com
---
Do it right the first time - at Powerhouse.
...Home of the 750HP Motorcycle Dyno...
111 Jersey Street - West Babylon, NY - 11704
Certified N.Y.S. Motorcycle Inspection Station
powerhouse@fastcycles.com
(631)491-6767
© 2022 - All images and content on this site copyright of Powerhouse Motorcycles, New York. Unauthorized use of these images or content without written permission of Powerhouse Motorcycles, New York is an infringement of copyright law and will result in legal action. All rights reserved as protected by Federal copyright laws.